Costumes are to be provided by the players. Only some accessories and props might be provided by the organization.
We can put you in contact with players from whom you can borrow a costume, or to rental options.
Costume requirement is beginning of the XXth century historically inspired, and a blend of Western and Eastern influence. While we won't go for historical accuracy, modern elements will be prohibited (especially regarding oriental accessories)
You may also read more on this document link
Moodboard of the Larp
Male costume
Male characters costume: western frock or coattails as a basis. Turkish characters may also wear an oriental coat (kaftan)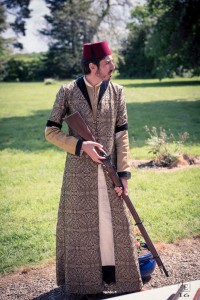 Men should wear a Fez (turkish character), a top hat or bowler hat (europeans)
Eunuques et mystics:
Eunuch characters: the same, but a standard kaftan will be provided for all characters. Participants will have to provide standard clothing to wear underneath and a white headscarf to wear on your head (we can show you on site how to wear it)
PC Eunuch character also get a colored scarf to distinguish them from NPC servants.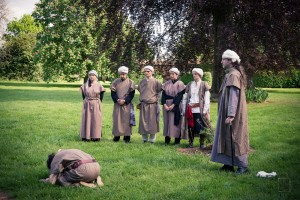 Female costume:
Female character costumes: one day or evening dress (may be a Belle Epoque dress or Oriental variation of the same) for outings. For the inside, a bathrobe or interior dress can be useful. You won't need a period nightgown as bed time is off-game. The site is in two locations and female characters will have to walk between two areas. Make sure you have shoes that can sustain a short walk (a few hundred meters) in grass.
Female characters will also be required to have their heads covered while out of the Harem. It can be a sheer veil, a turban or a european hat.
Accessories
You will need also:
A watch to keep track of time (though there will be also clocks): preferably period, or discreet enough that you can check it from your pocket
For women : gloves, fans…
A bag to carry your personal papers and journals
Any other props that you might find useful. Recommended: writing paper, quill or ancient-looking pen, books to read, cards, etc.