Welcome to the home page for the larp Harem Son Saat. You may find the design document to the game here. On this site you may find all information regarding the game. This game is a work of fiction and all characters and situations depicted are entirely fictional.
"Enslavement is degrading not only to the victim, but also to those who benefit from it" Germain Tillion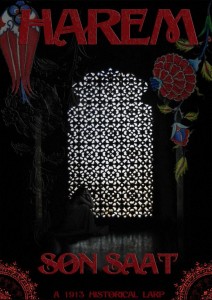 Harem Son Saat » (« Last hours of the Harem) is a historically-inspired, romanesque, narrativist Larp for 26 players
Dates: third run 18-21 May 2017
fourth run 8-11 June 2017
Participants must arrive on Thursday evening (from 6 pm, no time stamp, informal gathering)
Château de Cernay, France (2 hours from Paris)
Participation fee : 110 euros
Set in a fictional area in the Ottoman Empire in 1913, in the tense years preceding WWI, the game deals with the issues of culture shock, gender segregation and power conflicts.
Language neutral, to be played in equal parts in English and French, meaning that the character has the same language skills as the player. English will stand in for Turkish, French will be the international language.
More details on the game in the FAQ